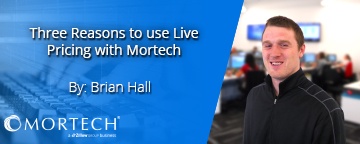 Mortech recently announced an integration with QuinStreet, providing a better online shopping experience for consumers with automated, accurate rate updates as they occur. The integration combines the ease of Marksman, with loan scenario-specific information and rate data, with the audience of QuinStreet, reaching thousands of online mortgage shoppers advertising on their mortgage network on a daily basis.
Another major feature is the ability to provide live pricing over flat rate file pricing for lenders. Instead of a lender sending over a file each time rates change, Mortech can update pricing as soon as changes occur, automating the process so lenders can focus on nurturing and closing leads. Live pricing has several advantages to flat file pricing. Here are three key ones for you to consider.
Up to Date, Out of Mind
With live pricing, rate data is always current, updating with any and all market changes. This eliminates need to update rates manually throughout the day, so you don't have to worry about your online rate data being up-to-date so you can focus on lead nurturing and conversion. Because these changes happen in real-time, lenders never have to worry about a latency period between what's being updated online and what online shoppers are seeing. Live pricing puts the most accurate rate information in front of online borrowers, instantly.
Data Can Be Fit into Criteria
Live pricing allows for data to fit into specific loan criteria. Lenders no longer have to price in overly generic buckets, and can offer data to a borrower that is unique to their lending scenario. This supplies the borrower with information that is as specific and accurate to their scenario as possible, establishing you as the go-to contact for information that works the best for them, specifically.
Better Pricing Across Other Live Platforms
Live pricing also allows for more consistent quoting across other live platforms. Once rates change, Marksman will automatically update them on any online platform that they're being quoted on. This means that no matter where online shoppers are looking for your rates, you can ensure that they're accurate and up-to-date, without having to worry about updating them on your own.
Learn more about Mortech and QuinStreet's integration here. Or, if you want to learn more about getting started quoting rates online with Marksman, schedule a free demo with us today.