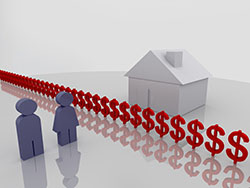 Six Federal Agencies have approved the final rule for risk retention as outlined as the QRM (Qualified Residential Mortgages). The agencies include the Board of Governors of the Federal Reserve System, the Department of Housing and Urban Development, the Federal Deposit Insurance Corporation, the Federal Housing Finance Agency, the Office of the Comptroller of the Currency, and the Securities and Exchange Commission.
The final rule generally requires sponsors of asset-backed securities (ABS), which includes Mortgage Backed Securities, to retain not less than five percent of the credit risk of the assets collateralizing the ABS issuance. As required by the Dodd-Frank Act, the final rule defines a "qualified residential mortgage" (QRM) and exempts securitizations of QRMs from the risk retention requirement. The final rule aligns the QRM definition with that of a qualified mortgage (QM) as defined by the Consumer Financial Protection Bureau. The final rule also requires the agencies to review the definition of QRM no later than four years after the effective date of the rule with respect to the securitization of residential mortgages and every five years thereafter, and allows each agency to request a review of the definition at any time.
The QRM definition aligning with the QM definition is considered a "win" for mortgage lenders (especially those who sponsor MBS issuances) and are currently working under the current QM rules. Doing such will likely further tighten the credit environment currently facing many borrowers. Also the provision originally included a down payment requirement of at least 20% that was excluded. This would have severely limited the exclusion especially low-to-moderate income buyers, minorities, and first-time home buyers.
The final rule will go into effect one year from the time it is published in the Federal Register for the RMBS (residential mortgage backed securities).