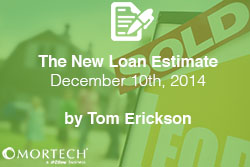 The CFPB has two new disclosures that will replace four disclosures now being used. The Loan Estimate will replace the current Good Faith Estimate and initial Truth-in-Lending form and the new Closing Disclosure replaces the final Truth-in-Lending form and the HUD-1 Settlement statements. This change is effective "on" 8/1/2015---not before. The CFPB has done significant consumer testing, and have "simplified" the forms so that borrowers can more easily understand the information contained therein.

This week, let's concentrate on the Loan Estimate, which has several "improvements" including:

1) A synopsis of the important data points summarized on the first page;

2) If it's for a fixed rate mortgage, the only fields that even show up on the form are those pertaining to a fixed-rate product, the fields needed for ARMs or loans with other specialized features as I/O, step payments, seasonal payments, etc… would be eliminated so not to confuse the consumer;

3) If you're taking an adjustable-rate, interest-only or balloon loan, you'll see best- and worst-case payment examples showing how your rate and payment could adjust during the life of the loan;

4) The "cash to close" calculation is also new and gives the borrower a very good estimate of the total funds needed to close the transaction;

5) The new "In Five Years" Comparison gives an accurate cost of the loan for the first 5 years of the loan---which is probably a more realistic than worrying about the total cost of a loan through its entire term (seldom does anyone retain the home let alone the same loan for say 30 years);

6) The new TIP's (Total Interest Percentage) is the total estimated interest paid over the entire term of the loan as a percentage of the loan amount.

The major drawback for Lenders is the considerable changes that have to be made to IT systems to support this new disclosure.