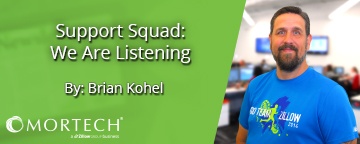 One of the biggest attributes of being a good coach at any level and any sport is the ability to listen to your team. This is something that applies to business as well, and as account managers we strive to have this same mentality with our customer base; willing to listen and work with you to find solutions. Within Marksman we have a great tool for communicating to the Account Managers so we can either coach you on best practices or identify ways to improve the system. Feedback received from our customers is valuable to our ability to provide the best customer service in the industry. So here's what we need from you to make this the most effective.
When pricing a scenario in Marksman, you might see something that looks like it needs to be updated. Rather than sending an email to support, submit a problem ticket. This will take a snapshot of the exact scenario with all of the same parameters involved and send it to our support team. Along with the scenario, please enter a description of what needs to be updated. This completely eliminates any guessing by our team on what you were trying to price, therefore expediting a resolution.
The availability of this feature is dependent on your individual company policy, so if you don't see this as an option on the rates screen, please review with your administrator on your policies.
Another way we at Mortech listen is through feedback sent in. Up at the top of the screen you will see a "Send Feedback" option. Clicking on this will open a new window for you to type an enhancement idea for our system. We're always working on ways to make our product better, but we know that as the people using it every day, you're bound to have some great ideas that can make your life easier. So if you think of something to improve Marksman functionality, or streamline your processes, let us know. We would love to hear it!
As always, if there is ever any questions and you just need to talk through a scenario, give us a call or send us an email at support@mortech-inc.com.