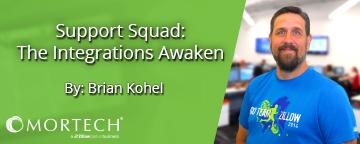 I had the chance to see the new 'Star Wars' movie over the weekend, and it was great! I don't know that I can expand too much more on this topic, for fear of spoiling anything for those who haven't seen the movie. One thing I can expand on though, was the absolute crazed fan base surrounding me, cheering and whistling throughout the movie. (The first time I've experienced this while in a movie theater.)
Initially it took me off guard, but as the movie progressed and this cheering happened every now and then, I thought to myself, "This is cool! The fans are excited about a sequel and embracing something old with something new". So as I'm writing this blog I'm assuming the same type of reaction is going on throughout the offices of Mortech customers utilizing the new Encompass and Calyx Integrations.
Sure, these have some familiar aspects we've grown to love over the years, but there are also some sweet enhancements to go along with these integrations.
Between Marksman and Encompass, there is much more data being passed between the two systems, streamlining the process for Loan Officers and Secondary Desk users.
With the Marksman and Calyx Point Integration, the look might have changed, but the pricing data did not. Now your loan officers can submit a lock to our Lock-in-Pro platform directly from the screen-pop into Marksman.
And to make the pot even sweeter with these solutions, historical pricing can be captured with either one. This has been shown to save your secondary desk a lot of time when needing to reprice a scenario with minor changes. So instead of 5-10 minutes you're looking at 30-45 seconds to reprice a loan.
Now, while I couldn't see or hear you while you read this blog, I can only imagine the cheering and clapping that commenced during this viewing! Just like a good sequel building off of a solid platform, Marksman brings you the next iteration of integrations to enjoy!
If you have any questions regarding these or any other part of the system, please feel free to reach out to support@mortech-inc.com! Have an awesome day, and 'may the quotes be with you!'