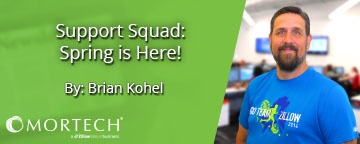 Along with the changing of the seasons, I've recently moved. Moving is one of my least favorite things to do, what with all of the packing, cleaning, moving, and unpacking. The entire process really made me contemplate if I needed most of the stuff in my house as I loaded it into a box to later be unpacked. For example: I was packing a DVD player, and two gaming consoles able to play DVD's as well, all hooked up to the same TV. And I thought, "why am I packing all of these up?" This revelation has caused me to look at many processes differently, and think on what can be trimmed away. Spring cleaning is in full swing!
Recently I was assisting a client and we were going over different pricing scenarios, as well as reviewing guidelines. I noticed a lull in conversation as they were navigating to the FHA guideline page, looking for their bookmarked link in the web browser. It became apparent to me they weren't aware of the guideline links within Marksman's pricing page. This is all about minimizing the 'stuff' you might need to move from browser to browser. Sure you can have a bookmark in your browser for these guidelines, but why worry about setting those up each time you install a new browser, when Marksman has it all for you…no packing necessary.
Directly from the pricing window you will find links accessing the FHA Loan Limits, FHA guidelines, VA Guidelines, and RD guidelines. One click of a button takes you straight into the guidelines making answering any questions for your borrowers a breeze. Nothing to unpack, no tape to struggle with, it's just there for you (all except the lemon fresh scent).
So go ahead and start the spring cleaning of the bookmarks in your browsers, as Mortech has you covered.