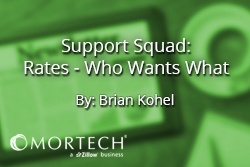 Our society has definitely drifted towards an instant gratification psyche, which isn't surprising when you think about all of the information technology has placed at our fingertips. So how are you supposed to keep up with your client base if they all want to know information regarding their potential home loan right away? This would be an easy answer if we only had one or two prospective borrowers in the pipeline all of the time, but in working with my clients, I know this is hardly ever the case. Well luckily for us all, Marksman has an easy answer if you have one, or even thousands of borrowers in your pipeline, and that's the RateTracker.
Gone are the days of sticky notes lining your monitor, phone, desk, and heaven forbid, your car's dashboard. With one ill-timed cup of coffee tipping over onto these notes, your day can go from stellar to cellar. In the same amount of time it takes you to physically write down a borrower's information, you are able to enter the same information into Marksman and click 'SAVE'. Then with a couple clicks of a button Marksman will monitor that scenario for you, notifying you and/or your borrower when the rate they want is available with an investor you use.
For example, let's say Joe Homebuyer calls you and states he would like a 30 Year FRM at 3.50%, but the best you can currently offer him is 3.75% based on the scenario. Now, upon saving his information in Marksman, you can enter in a target rate of 3.50% in RateTracker, and Marksman will monitor daily and notify you when this rate is available for this prospect. The RateTracker messages being delivered are completely customizable to your company, and will have your company branding within the email.
Keeping track of your prospects and the rates they want has never been easier, so now if you spill your coffee, you won't have to worry about your prospects, but we can't say the same for your dry cleaning bill.
Want to know more about Marksman's Rate Tracker or other features? You can contact a member of our training team to find out more about what features you can be using in Marksman today. Or, if you'd like to know how you can gain access to Marksman and the features it provides, you can schedule a free demo today.