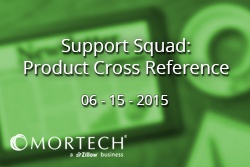 At Mortech, we know it's not just about providing tools to our customers, but also about helping our customers understand our software and be able to use it to its fullest potential. Our support team is constantly working to provide the best possible experience for our customers, and now we've come up with another way to do just that. We'll be posting a biweekly blog, written and compiled by our support team, highlighting different tools and aspects of Marksman to better help you understand and use our products, and ultimately improve your business.
Being lost has never been a good feeling, whether it be on a family vacation or starting a new job. Sometimes all you need to get through is a roadmap and/or a little direction. Mortech understands this feeling and has certain tools in place to give you what you need to avoid getting 'lost'. One of those tools is the 'Product Cross Reference.
Found on the Rates page of Marksman, the 'Product Cross Reference' is your roadmap to access the product naming conventions from Investors versus what is found within Marksman. Searching by investors and/or product names gives you the ability to determine the appropriate product for your prospects.
Along with product naming, with one click of the mouse you are able to access the guidelines and overlays for these products via our AllRegs® integration. Two options are available to you: the full guidelines, or a condensed version giving you just the eligibility criteria. These are found on the right-hand side of the cross-reference screen.
By utilizing the Product Cross-Reference, you have the path to success at your fingertips, and knowing and understanding product naming and guidelines becomes quick and easy.