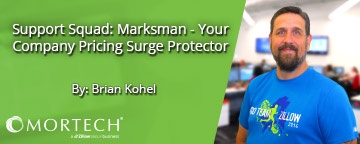 If you are like most offices I know, you most likely have a March Madness bracket filled out. My office is no different, all with the opportunity of bragging rights until the next year. Your expectations of what is to come over the next month is mapped right out in front of you. Which game is going to fulfill the 12-5 upset, or which one-seed will be the first to fall?
This year I felt good with my choices, and with the Tournament starting on St. Patrick's Day, who else could I pick to win it but the green Michigan State! I even sported my Spartan hat to work that day. What could go wrong? They are a two-seed playing the Lightning of Middle Tennessee State University?
It turns out Sparty was struck by lightning and lost in the first round, and my bracket was hit by the same bolt, as the color of red worked its way across the page all the way up to the championship game. This is the exact reason I have never been to Vegas, as I have a sneaky suspicion lightning would strike twice.
Just as basketball brackets can go from first to worst overnight, so can the market. Locking in a rate after-hours can be just as nerve-racking as choosing a 12-seed to bump a five-seed. Marksman wants to calm your nerves with these scenarios, as your company is able to define timeframes of when they want to process locks throughout the day. This allows your lockdesk to coincide with the lockdesk of individual investors. No more will your secondary desk have to lose sleep over a lock request coming in at 10pm. Overnight surges in the market might have sent you into a panic at the beginning of the next day, those days are behind you with Marksman.
If you would like more information on how to set this up within your Marksman account please reach out to support@mortech-inc.com and we will be glad to assist you!