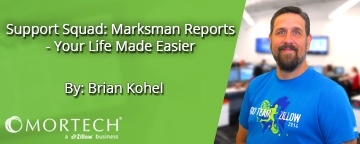 So now that your company is "Market Fresh" and receiving online leads, how do you know the quality of those leads and how they are being distributed? In days when I was first in the mortgage world, online leads were no such thing. Most of the tracking of leads would've been broken up into Walk-In, Call-In, and Referral. In addition it would have been a very manual process. In the odd chance you're still marking tallies on a chalk board, I'd like to let you in on a little secret, Marksman can do this for you!
Yes indeed, we have built in reporting capabilities ranging from lead source costs, to calling activity, and even which prospects received which campaigns sent from Marksman. So now you can check your monthly performance of your leads and how quickly you are contacting them. We are giving you the tools to make informed decisions on what lead sources are giving you the best ROI, as well as which campaigns are driving in the most business through your doors. (Both physically and virtually)
Not only are these reports viewable within Marksman, you are also able to download into an excel format with one click of a button. You know your business and what figures you would like to see month-to-month, so we've also included the ability to create a customized report with only the fields you wish to see. These reports will be able to give you a glimpse into your own performance as well as the performance of the leads you are receiving.
Where was this ease and functionality when I was working in a mortgage branch of a bank? I'm dating myself here, but I thought I was on the cutting edge of technology using an IBM Selectric typewriter!
Contact our tech-savvy support department at support@mortech-inc.com if you have any questions on how to utilize or setup these reporting features. Or to find out more about Marksman as a whole, you can schedule a free consultative demo today.