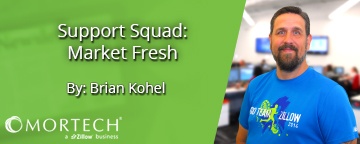 Over the years the season of fall has become my favorite time of the year. The cool, crisp mornings, the evenings surrounding a fire pit with friends, and Saturday's Farmer's Market. I can walk down the street and look at many different vendors whether it be fresh produce, homemade crafts, or kettle corn warm enough to put off steam out of the bag into the crisp fall air. My kids and I know there will be something to appeal to each of us individually, and having the options in front of us makes for an experience we can tailor to our own tastes. Much like my kids and I have different tastes, Mortech's clientele has individual needs and we recognize this and offer to y Marksman Marketplace.
Our customers are able browse through a virtual marketplace of lead sources and choose who they would like to do business with. In the past five years there has been an obvious shift of borrowers starting their home buying experience in an online platform. Mortech has seen proof of this, as last quarter alone 71% of the leads entered into Marksman were originated from an online marketplace.
Once a relationship with the lead source has been established you are able to customize in Marksman how those leads are distributed amongst staff, along with reporting to make sure the ROI is where you need it. So being as today is the first day of Autumn, make sure your business is 'market fresh' and in front of as many borrowers as possible using Marksman Marketplace.