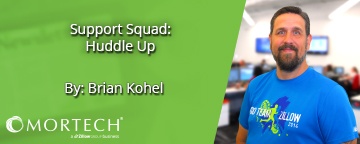 One of the many similarities I've seen between my work here at Mortech and coaching youth football is, communication is key! If I were to send my team out onto the field to run a play without giving them a play, my guess is it would end badly. My job as a coach is to make sure my players know their specific job on each play, and give them the tools to succeed. Mortech feels the same way, so we've given you the Dynamic Pipeline.
Think of the Dynamic Pipeline as an offensive coordinator for your daily workflow. It organizes new prospects, current day follow-ups, as well as any other leads received in the last 30 days. Once a prospect is selected within the Dynamic Pipeline, the borrower's scenario will appear on the same screen enabling your loan officers (quarterbacks) to have an informed conversation at the click of a button. Along with the scenario you will also see any notes you might have added in the past regarding this prospect, and a contact history.
Your company's system administrator (Head Coach) has the ability to customize the order in which leads are displayed. I'm sure within your company, there a certain set of loan officers you would like to focus on specific lead types. Now these leads can appear first in their pipeline, as well as other sorting capabilities to give your staff an edge when contacting prospects. I correlate this to a quarterback running a pass play and having a 'hot route'.
The Dynamic Pipeline is a must for getting your team on the same page and giving them the tools to win. Make sure your team is utilizing Marksman to the fullest, and if you have any questions on how, be sure to reach out to our support staff at support@mortech-inc.com. We will do everything we can to make sure your team finds the end zone and scores the prospects it should.