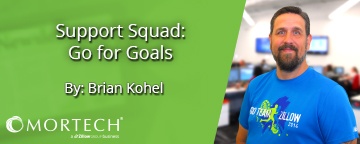 Here we are at the beginning of another year, trying to lay out the vision for 2016! Every January companies, as well as individuals, are vigorously compiling lists of goals. Whether it be business or personal, these goals are always something to strive for. I've heard many different viewpoints on what should or shouldn't be a goal.
Maybe your goal is to make one more phone call a day to get your name in front of people, or wake up an hour earlier to get your daily workout completed. These seem like fairly easy goals to accomplish, but should we have such goals on our list of they are this easy to complete? Why not raise the bar? Let's say your goal is to increase your monthly volume by 3 loans, that's a 36 loan increase from the previous year!
I am of the mindset both types of goals should be on your list, mark some off along the way, but never lose sight of the bigger goals. We at Zillow have a core value of Move Fast, Think Big! Over the years it has proven to be a great mentality, some goals seem astronomical when first pitched at the beginning of the year, but as long as you have a thought-out roadmap of how you are going to get there, you might surprise yourself.
If your company goals include jumping into the online lending space, let Mortech help you with our Marketplace options. Personal business goal to improve communication with your borrowers regarding their specific scenario? Let Marksman lead the way with RateTracker and email campaigns. Perhaps your goals are to just make more money with the volume you're already bringing in. Hedging is a good idea, give us a call and we can discuss some options.
Our Account Management Team wants to be involved in your 2016 goals and success. Be sure to reach out to your Account Manager to discuss your goals and how Mortech can help you achieve them.