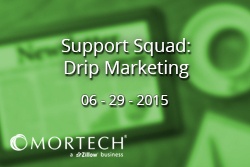 In most cases when talking about a home, the word 'drip' doesn't usually surround itself with positive vibes. But in the case of home loans, a drip can be a great thing, specifically marketing to potential borrowers. Marksman gives you the ability to create drip-marketing campaigns to your clients, both new and old, through our email campaign feature.
This feature is fully customizable from the layout, to when it delivers - all decided by your staff. From the moment your prospect enters your pipeline, Marksman gives you the ability to communicate with your borrower, up until that loan is locked. Setting up activation rules based on lead source, branch, or prospect status are just a few of the ways an email can be triggered with or without current rates displayed.
The email campaigns give you the flexibility to market your brand and tailor it to the different lead sources. For instance, you probably wouldn't market to an online lead the same as you would a walk-in lead.
Ways we've seen our clients utilize the email campaigns range from seasonal specials to refi scenarios. Maybe there is a purchase special your company would like to run through the winter months you can sent this campaign up now, with a start date of December 1st, to deliver to prospects in a 'looking' status within Marksman. Another example would be a client who just closed on a purchase, so you've already established a relationship with them, don't let them go! Create a prospect status for potential refi customers and deliver them a refinance option with rates included every six months. Marksman also gives you the ability to send this out reoccurring for up to 20 deliveries. So, if you are sending out an email every six months for 20 instances, that's ten years of marketing achieved with one email campaign!
There are many different options regarding email campaign setups within Marksman, call our support staff to make sure your company is taking full advantage of the drip campaigns available to your clients.