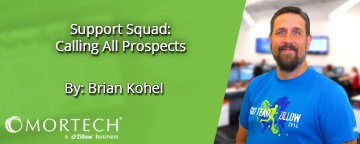 Fall isn't just a great time of the year for spending time outside in beautiful weather; it's also the time of the year that I get to do one of my favorite things: coach junior league football. To me, the fun of a season is to see how the team comes together to play as one cohesive unit, as well as individual players. Individuals striving to get better and providing a healthy challenge to fellow teammates to do the same.
So where am I going with this? As a member of a team, loan officers also have the ability to grow and adapt to different strategies to be as successful as they want to be. Marksman is right there with you, and we have many tools to add to your daily processes to ensure your day is as efficient as possible. We've covered some features already in previous Support Squad posts, and another one to think about is the dialer option.
The Marksman Dialer gives you, as a loan officer, the ability to contact your borrowers with a click of a button. This will minimize the risk of misdialing, and make the contact to your prospect even faster. Not only can this be utilized as a calling feature for existing prospects, but is also capable of automatically connecting you to a borrower upon the new lead being assigned to your pipeline.
Remember earlier when I mentioned teammates providing a healthy competition to each other? Well, Marksman gives that option to you as well with a group dial feature. This option will ring a group of loan officers at the same time and the first to answer the call is the one getting the lead. This is great for loan officers eligible for the same lead, who might be in different locations.
Contact your Mortech representative for more information on how this can be implemented into your Marksman account. Whether it's a team goal or individual goal, Marksman's dialer option will increase your speed of contact to borrowers, giving you an edge in closing that deal.
Just like the team and players I coach and help progress throughout the season, I want to know what is working for you and your team. Feel free to email me at briank@zillow.com with your Marksman wins as an individual and as a team.