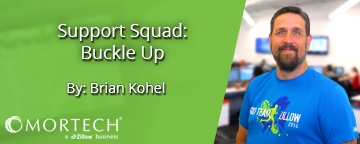 Building on the last Support Squad Blog and our society's need for speed, today we'll talk about how to expedite the rate quoting process. This industry is about building relationships and trust with clients, and one attribute they will appreciate is a quick response when asking for a rate for their home loan. Not every client is the same, and as you're talking to them, you might find they are eligible for more than just a conventional loan. So then, what's next?
Rather than having to drop down and sift through a menu of over 250+ loan programs Marksman supports, you can save up to five default scenarios custom to your clientele. This can be found in the upper left section of the rates page. You will see the word Default; when you click on this scenario it will take you to the scenario you have programmed in your user settings. The other four can be modified directly from the rates page.
To setup these other four scenarios, simply click on 'create new scenario'. This will take you to a screen to enter in the criteria of the scenario. Once entered, click on 'Display suggested products', select product, and click next step. On this screen you will name your scenario, verify that all other fields are correct, and click on 'Next Step'. The final screen will allow you to 'Save' the scenario, which you'll be able to update at any time by clicking on 'Modify' to the right of the scenario name.
Whether talking on the phone or over a cup of coffee with your client, you are now able to switch from a Conforming to a VA, or maybe from an FHA to a Jumbo all with one click of a button. Normally when moving this fast, you're required to wear a seatbelt. Unless your desk travels on the open road you should be ok not buckling up, but your customers will certainly enjoy the quick response in regards to their home loan.