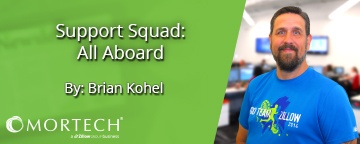 The mortgage industry is ever changing, no two mortgages are exactly the same. Mortech understands, and has the tools you need to be successful in managing anything that might come your way. You probably know the pricing piece of Marksman, and there is probably so much more available to you and your team to make your company as efficient as possible. So how do you find out more information? I'm glad you asked!
Within Marksman you will see a 'Help' section giving you resources to find out more about Marksman. Three options are available to you within this drop-down: Training, Contact Us, and Product Cross Reference. Today I'm going to touch on our awesome training team!
By clicking on the Training button, you will be directed to a webpage to register for live training sessions with Mortech's training department. The live trainings on the calendar do have a preset agenda, but our training department is not limited to just these topics. If you or your staff needs an online training/refresher session on any feature of Marksman, we can definitely arrange for this all at no additional charge!
Need to be up and running quickly? Need to train a large group? Perhaps a more focused or dedicated training? Mortech training resources can come to you with on-site training sessions to meet your needs. Have a new admin, have them join us in Lincoln for dedicated training. Please contact sales@mortech.com for more information regarding the best training option for your needs.
Whether you are looking for a quick refresher or an in-depth look at Marksman, let Mortech's training team assist in redefining your company's vision of success. In the words of Benjamin Franklin, "Tell me and I forget, teach me and I may remember, involve me and I learn." Mortech's staff is here to get you involved.