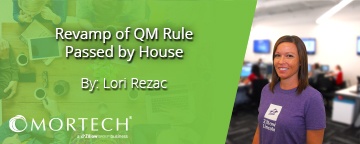 The House of Representatives has passed the Portfolio Lending and Mortgage Access Act (H.R. 1210) by a majority of 255-174. The bill, if enacted, would amend the Truth in Lending Act to allow a safe harbor from certain requirements on all loans held in a creditor's portfolio if that creditor is a depository institution. This would also create a safe harbor from steering if the depository institution has informed the mortgage originator and the consumer it intends to hold the loan on portfolio.
The proposed amendment is in response to the difficulty many are experiencing when trying to qualify for a mortgage loan. Depository institutions would determine what their risk-tolerance is when it comes to approving a mortgage loan to be held in their portfolio.
According to an article in Housingwire, the bill is likely to be vetoed by the White House. There are fears the bill "would open the door to risky lending by allowing balloon loans made in any geographic area to qualify for the safe harbor as long as they are held in portfolio."
With the expected response from the White House, the American Bankers Association is still pushing for passage. They believe the bill will allow more borrowers access to safe and sound credit as loans held in portfolio tend to be low risk. In the time since the Qualified Mortgage Rule went into effect, there has been fear that it has created a barrier to the many creditworthy borrowers who would have otherwise qualified for a mortgage loan. By allowing this safe harbor, the depository institution shoulders all the credit and interest rate risk for the entire term of the loan.