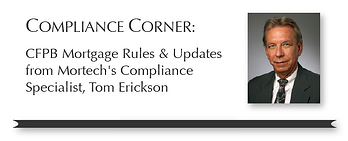 The Qualified Mortgage's definition for the "points and fees" has been amended in a bill recently passed by theHouse of Representatives. The "points and fees" test is currently used to determine if a loan passes the TILA ability to repay provision and become a Qualified Mortgage. However, no more than 3% of the loan amount can be charged in bona fide points and fees (for loans > $100,000) to pass this test.
Since 2010, the Dodd/Frank bill and the CFPB have outlined the fees that are included in this calculation, but the House of Representatives is now clarifying some fees that may be omitted from the test entirely. The House has not only decided that escrow amounts for insurance are excluded, but also reversed the requirement that title charges be included if paid to an affiliate of the Creditor. Title charges are now also omitted from the calculation regardless of whether they are paid to an affiliate or non-affiliate company, as long as the charges are reasonable and the creditor receives no direct or indirect compensation from the charges (except as permissible returns under the RESPA affiliated business arrangement provisions).
But before any of this can become a law, the Senate must pass their own version of the amendment, and it is there that we can now focus.