Positive Outlook for 2015 in Spite of Weak Demand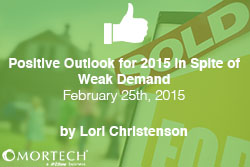 According to Fannie Mae's Mortgage Lender Sentiment Survey™ results, many lenders are expecting to grow or maintain their origination and servicing businesses in 2015 even with their concerns about compliance and weak consumer demand. Additional revenue was cited as the most important reason to grow their mortgage origination business. Only 4 percent of those surveyed planned on downsizing. The following outlines some of the answers given during the survey:
The most popular strategy to achieve growth for the larger and mid-sized institutions is to "increase the number of retail branches or loan officers".

Smaller institutions are looking to "expand marketing outreach".
Most institutions are seeing the most opportunity with first-time homebuyers.
Larger institutions will increase marketing to affluent consumers while mid-sized and smaller lenders will focus more on lower-than-median income consumers.
Of the lenders who reported easing credit standards, "higher LTV" and "lower FICO" were the top two changes.
Of the lenders who reported tightening credit standards, "lower DTI" and "stricter other criteria such as documentation" were the top two changes.
The Mortgage Lender Sentiment Survey™ is administered online to approximately 2,000 senior executives of Fannie Mae's lending institution partners. It is a 10-15 minutes survey given quarterly to help professionals within the industry understand the market trends in order to assess their own business practices.
We look at industry happenings and updates every week.