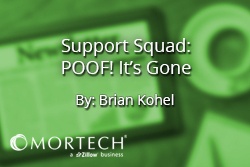 Wow, I had the best weekend ever! What did I do? Well I … I can't remember.
Have you ever been in the middle of a story then all of the sudden you lost your train of thought and you completely forgot what you were going to say? Let's face it, we've all been in this situation. When this happened to me in my childhood, my mother would always tell me to retrace my steps - physically and mentally - to try and remember what I was going to say. This worked most of the time, but every now and again, I would simply just forget. Luckily for me, and others like me who have too many things to remember, if your Marksman password slips your mind, we've built in a backup plan.
On the Marksman login page you will see the Customer ID, Username, and Password boxes. On the right side of the 'Login' is the link for when the above-mentioned scenario happens and your password escapes you. Clicking on the 'Forgot Password' button will change the password field into 'Email Address'. You will want to enter the email address associated with your Marksman account, then click 'Reset Password.' A temporary password will be created and emailed to you.
A couple of things to remember when doing this is:
If the email address doesn't match the email you have in your Marksman account, a password will not be created.
If you have been waiting more than a minute, you will want to check your spam folder, as your email provider might have redirected the email.

Now that you have your new password you will be able to log into Marksman, and depending on your account settings, reset your password to something you'll remember. If by chance your password escapes your memory again, take my mom's advice and retrace your steps. (Hint: See above)