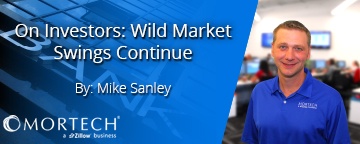 The slowdown in China has reverberated throughout financial markets across the globe, and they are reacting as if they don't know how to react. Down 550 points one day to follow the next with a 400-point upswing. It is starting to feel like this is going to take some time to iron out and let the market decide which way it wants to go.
At home we also continue the mixed bag of economic news. The revisions to U.S. Gross Domestic Product, which is the broadest measure of economic activity, showed an increase in growth during the second quarter to 3.7% from an original estimate of 2.3%. Wednesday ADP estimates for August private sector job gains showed a gain of 190k vs the consensus of 200k. This was only a small miss, and so far stocks have reacted favorably to the mixed bag of data. Friday we will get the Employment report which will be followed by a light week of reporting during the Labor Day shortened week.
Hopefully we will see some calming of the markets and a signal of direction in the next few weeks.