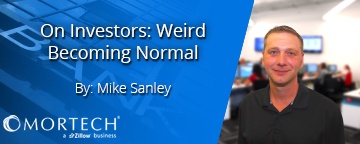 The unusual is starting to become the norm recently.
With a little more consistency, the Dow has gained about 600 points over the past week while mortgage rates ticked up slightly. We are starting to see reactions to economic news have odd or opposite reactions. Have you felt yourself hoping some of the economic reports come back bad? And for what reason? Because the market has started reacting positively to negative news, which in many ways means we have broken the very system meant to stabilize the economy. Obviously this has a lot or everything to do with (QE) Quantitative Easing and the Fed's policy of record low interest rates and bond buying. We are now expecting that the bad news about the economy will continue to pressure the Fed into not raising rates while good news may push up any decision on raising the prime rate. A fairly short term mentality that is not health on its own. Eventually one would suggest that the bad news will eventually have to be corrected for and especially if inflation starts to move north forcing the Fed to raise rates at an un-opportune time. Let's start hoping the positive news starts to get more traction than the negative.
Next week will be a little busier with economic news coming out. Wednesday Retail Sales, The Consumer Price Index on Thursday, and the JOLTS report on Friday. All very important factors in the economy and the CPI is the key ingredient for inflation.