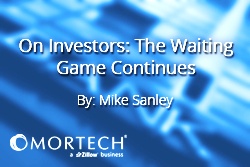 Greece may need some grease to loosen up the negotiating table.
As talks with creditors and the IMF continue to break down with members leaving discussions at a stale mate the market is not sure where to go. We all know the EU may end up on the rocks if Greece is allowed to default on their obligations, and world markets will likely follow. But hey that's good for mortgage rates, right?
With all the volatility day to day, the net end run each week has almost been negligible to zero, with rates actually falling by .07% last week. We will take the lead from Greece and just put them on the back burner for now and focus on the good news: Existing Home Sales came in stronger than expected as were New Home Sales.
May core PCE price index increased 0.1% from April, and it was just 1.2% higher than a year ago. This is the Fed's preferred measure of inflation, and Fed officials have stated that they would like to see core inflation rise to 2.0%. This could stall or delay their plans on increasing interest rates in September. Again, Greece will dictate a lot down the road as will the health of the world economy. The wait and see game goes on…
Investor Updates
AmeriHome Mortgage has updated their Non-Agency Guidelines and has provided clarification on income guidelines and under disclosed finance charges.
Freedom Mortgage has adjusted their pricing on their rate sheet. This includes the removal of the .125 LLPA on loan amounts $200,000-$417,000, and the .250 LLPA on Streamlines and IRRRLs. It also includes the reduction of the purchase incentive from .50 to .25.
Guaranty Trust is offering a .375 pricing improvement on conventional fixed High Balance loans with a LP decision on new locks received on or after June 19th.
Plaza will be updating many of their LLPAs on Agency programs, including Home Possible, DU Refi Plus Retained and Freddie Mac Relief Refinance, effective July 1st.
NYCB has made updates to their Seller guide, including financing for 5-10 Second Home or Investment Properties on Conforming Fixed and Conforming Standard ARMs.
Suntrust will start allowing Texas 50(a)(6) loans to be underwritten by Non Delegated Correspondents on June 26th.
SierraPacific has made revisions to their FNMA and FHLMC LLPAs and have enhanced their LPMI pricing.
PennyMac has updated their LLPA values on Conventional loans.
Kinecta has updated their UWing and Program Guidelines.
Redwood Trust will be implementing a new LLPA grid for their conforming products, effective for all locks and commitments beginning July 6th.
Wells Fargo will be updating their Guaranteed Rural Housing Loan Adjusters, effective July 20th.
The Money Source will be making changes to their LLPAs, effective July 1st.
Each week we blog about investor updates and happenings in the mortgage industry. You can find last week's blog here.