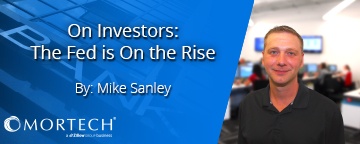 The Fed is on the rise. Or at least, for the first time in seven years the federal funds rate has been increased.
Last Wednesday, as expected, the Fed voted to increase rates by 25 basis points. Initially the announcement that had been seen as almost certain had little impact on both the stock market and MBS prices, but volatility took hold later in the week. However, the net changes by end of week were marginal. Mortgage rates were up .05 while the DOW ended an up and down week up 50 points. Investors were more concerned with the tone of the Fed's dialog about future increases and how fast they look to continue tightening their monetary policy.
With the look of gradual increases during 2016, the Fed did not indicate any rush to take additional steps to pull back the reigns. Inflation has continued to be below the Fed's target level, but has been pushing slightly higher in recent reports. This week brings Existing Home Sales and revisions to third quarter GDP, which will be released on Tuesday. Durable Orders, New Home Sales, Personal Income, and the core PCE price index (the Fed's primary inflation indicator) will be released on Wednesday. Mortgage markets will be closing early on Thursday and remain closed on Friday in observance of Christmas.