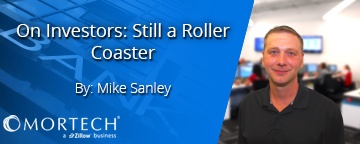 The ups and downs of the markets continue.
There's been a little more down than up this week so far, with the DOW closing Thursday down a little more than 200 points for the week. While the decision to leave interest rates untouched has been favorable to MBS prices, the stock market pull back was accelerated as the lack of confidence in the Fed statements caused concern of the overall health of the economy both at home and abroad. We have not seen a "correction" in the markets as some predicted but the roller coaster ride has continued. The next couple of weeks will help shape the direction markets will take.
August new home sales increased 6% from July to an annual rate of 552K, above the consensus of 515K, which is the highest level in a little more than seven years. New home sales were also 22% higher than a year ago, leading some positive news for the housing market. Friday, Fed chair Yellen will have the third estimate for the second quarter GDP and we will see the Consumer Sentiment released as well. A lot of attention will be paid to the GDP estimates and the ADP Employment report next Wednesday.