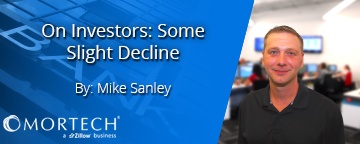 Heading into a slight headwind with the economic reports over the last few weeks, mortgage rates fell slightly again this week. Weaker than expected data along with another downward revision for August retail sales is starting to point toward slower growth. Retail sales account for roughly 70% of our overall economic activity.
Overall, not great news for the economy, but just happened to be at the same time that the CPI (Consumer Price Index) increased 1.9% for the year, which may have pushed the Fed into a more decisive attitude toward a rate hike by years end. Slower growth should halt inflationary pressure for some time unless economic data starts to rebound sharply going into the winter months.
Next week, the economic reporting will be slower. The biggest impact will be the housing sector data. The NAHB builder sentiment index comes out on Monday while Housing Starts will come out on Tuesday. Existing Home Sales will come out on Thursday.