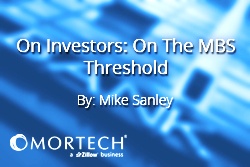 The rollercoaster ride of MBS continues with wild swings in every direction.
As last week ended with MBS down about 1 and 18/32 the panic started to set in followed by some recovery this week. It's hard to deny that the time has come, albeit a lot later than most of us thought. The tick upward in rates has started and not many factors will slow it down. The future of Greece, a slowdown in China and the employment data in the US will be the main focus going down the road. A range of reports in the U.S. and Europe over the last week showed improving economic conditions. Unfortunately, good news for the economy is typically not good for mortgage rates, which moved higher.
The next month will be very telling as to when the Federal Reserve will start the upward tick of interest rates dragging everything else along for the ride. With current indications or guess work looking at September for The Federal Open Market Committee (FOMC) meeting to see the first rise of the Prime Rate we are most likely still looking at a couple months of large swings in MBS prices.
Investor Updates
PMAC Correspondent is now allowing leasehold properties.
First Guaranty Mortgage Corporation has announced the removal of Fannie Mae and Freddie Mac updates.
Suntrust has updated their guidelines to more closely align with recently announced Fannie Mae Freddie Mac updates.
US Bank has made updates to their delivery fees for agency Freddie Mac and Fannie Mae loans per the updates announced in April.
Sierra Pacific Mortgage is now offering a .50% price improvement for conventional High Balance loans available on the 30 year fixed product ran through Desktop Underwriter with FICOs >=750 and LTVs <=75%.
M&T Bank has updated their pricing grids with updates provided by FHLMC and FNMA.
Ditech has updated their Underwriting Guidelines on Conforming, VA and Jumbo products.
Each week we blog about investor updates and happenings in the mortgage industry. You can find last week's blog here.