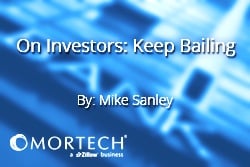 Keep bailing! Like a ship with a hole in it, they are stuffing the hull with Euros until they can find a way to patch the leaks. Another Band-Aid of $96 billion from the European Union will keep the ship floating for a little longer but just adds another layer of debt they can't afford. We will see how long they keep stuffing money in the drain. At this time, Greece defaulting and leaving the Euro is almost inevitable, and has been factored into most markets during the crisis.
Lack of surprises from Fed chair Yellen has helped MBS in the last couple of days. The continued sentiment seems to point toward no increase this year for interest rates, although her testimony did say it is likely that a rate hike will be appropriate this year if the economy performs as expected. It would look to be December at the very earliest if that sentiment remains true. MBS have reacted well for the week and look to end on a positive note if the trend continues. Builder confidence in July reached the highest level since November 2005, and Fed Chair Yellen's second day of testimony has provided no fresh information about monetary policy. With housing starts, existing home sales, FHFA house price index, and new home sales coming out in the next week, it will certainly give us an idea of the housing market's health. So far not many negative surprises on the housing front, so let's try to keep it that way.
Investor Updates
Wells Fargo has updated their non-escrow fees for the third quarter.
Chase has updated their VA adjusters on Best Efforts and Mandatory Commitments taken on or after Thursday, July 2nd.
Caliber has updated their LLPAs effective on new locks on or after Tuesday, July 7th. They have also expanded their Texas (a)(6) rate term and cash-out refinance transactions on the Caliber Jumbo product effective July 13th.
CMG has added the True Jumbo 6200 Series product and has retired the Non-Agency Jumbo 600 Series product. They have also updated their LLPAs effective July 10th and updated their credit policy effective July 15th.
Redwood Trust has updated their LLPA grid for their conforming products effective July 6th. They have also updated their Conforming and Jumbo Program eligibility and corresponding supplements.
Crescent has announced the Fannie Mae and Freddie Mac LLPA changes that was effective July 3rd.
Ditech has announced the Agency LLPA updates effective July 13th. They have also announced a new minimum loan amount for all Crimson Jumbo Non-Warrantable condos and Condotels.
Nationwide has updated their LLPAs effective July 8th.
Kinecta has increased their Admin/UWing fee for non-California Agency loans from $695 to $745 effective July 13th.
Embrace Home Loans has updated their LLPAs to match the new Fannie Mae and Freddie Mac updates.
Community Trust Bank has added a -0.200% LLPA for all VA and RD loans.
NYCB has updated their LLPAs effective July 6th.
Plaza Home Mortgage has updated their LLPAs effective July 1st.
AmeriSave has updated their LLPAs on all loan amounts.
Endeavor America is allowing Manufactured homes on FHA/VA/USDA and conventional loans. They have also updated their LLPAs.
TIB has temporarily discontinued acceptance of the product type of "One time Close, Construction to Perm with a Modification".
Freedom Mortgage has increased their purchase incentive on Conventional products from 0.25 to 0.50 effective July 13th.
US Bank has updated their LPMI Jumbo Rate Adjustments. They have also announced expansions and enhancements to a select set of their portfolio programs.
Florida Capital Bank Mortgage has made changes to their credit guidelines.
MSI has reduced their minimum VA FICO.
EastWest Bank has made changes to their LLPAs.
PHH has made changes to their Conventional and VA Underwriting Guidelines.
Carolina Bank has decided to cancel their Non-Warrantable Condo product.
Provident Funding has updated their Conforming Program Guidelines.
GMFS has updated their Conforming adjustments.
PRMG is updating their Agency Portfolio LLPAs.
HomeBridge Wholesale has announced updated LLPAs effective July 15th.
Guaranty Trust is eliminating the price adjustment (0.125) for conventional conforming and high balance fixed loans with a LP decision, effective July 15th.
Each week we blog about investor updates and happenings in the mortgage industry. You can find last week's blog here.