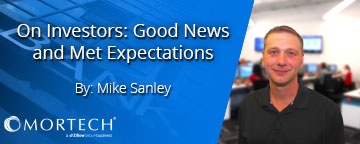 Not so great news from the Fed translates into not so bad news for mortgage rates.
The recent Fed meeting resulted in worry over the overall health of the economy both at home and abroad. Most of the data has matched expectations which the bar was set fairly low on, so not a lot of movement came from the financial data released. As expected, the Fed did not make any changes to the federal funds rate. With the Fed acknowledging that housing and labor markets showed a little improvement, the overall economic activity "appears to have slowed". This was a big factor that kept, and pushed, mortgage rates lower once again. Inflation indicators showed a slowing and small pull back of inflation which was just 1.6% higher than a year ago, an encouraging sign that the fed will keep the loose monetary policy in place longer.
March pending home sales increased to the highest level since May of 2015, also helping with the good news for mortgage markets. GDP was by far the biggest let down with growth of only .5% for the first quarter, which is in line with the past several years of disappointing growth for the start of the year. Looking ahead, the most important report coming up will be the Employment report on Friday, which may give us some insight as to where the economy will be heading.