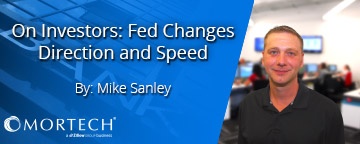 Wednesday's meeting turned into good news for mortgage rates. Mixed economic reports over the past week ultimately ended up neutral. Mortgage rates ended the week a little lower, which was helped by the Fed's non action on interest rates and new guidance for future increases. The Fed is now targeting two rate increases instead of four as it previously indicated. Slowing US growth as well as pressure from abroad have put pressure on the Fed to not pull back or tighten its monetary policy.
We did see the core consumer price index (CPI) increase at an annual rate of 2.3% which was widely unexpected and may put some future pressure on the Fed to speed up any rate increases if it continues to climb. Going forward, a busy week for housing with Existing Home Sales Monday, and New Home Sales will come out on Wednesday. Durable Orders, an indicator of economic activity, will come out on Thursday.
The third estimate of fourth quarter Gross Domestic Product (GDP) which has been adjusted on a regular basis lately, will come out on Friday.