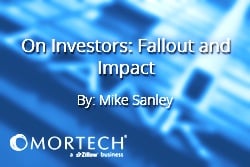 As Greece gets its can kicked down the road, investors are left wondering what road to even take. The daily back and forth in negotiations either breaking down or starting back up with creditors is making the markets spin. Just to throw gas on the fire, China and its impending slide seem to be gaining momentum even with the government trying several measures to artificially prop up stock values, to no avail as of yet. To be put into perspective ,the Shanghai composite is still 70% above where it was this time last year. The questions will be how far of a drop we will see and how far reaching its impact will be.
So how big of an impact will each have? It is believed that if one of the two is resolved the world market impact will be minimal in the long term. If both happen, we could end up seeing a fairly significant slowdown or pull back in many of the major markets as China's growth and the viability of the Euro zone come into question. We have to keep in mind that these are two major markets in the world economy and can have vast implications all around the globe. Another question that is increasingly coming up is the health of our own economy. Are we recovering still or are we barely treading water? Compared to what was forecasted, this was a somewhat disappointing report for job gains and wage growth.
Compared to a consensus forecast of 230K, the economy added 223K jobs in June. In addition there were downward revisions to prior months of 60K. But hey, the unemployment went down to 5.3% from 5.5%. Unfortunately the reduction was almost completely due to a large number of people leaving the labor force, which no longer counts them as unemployed. While the volatility is not good for your 401k, it is good for mortgage rates and MBS prices.
We will continue to see how the mixed bag of news rolls itself out as the summer rolls along. Hopefully it's a good one!
Investor Updates
Redwood Trust is implementing new LLPA grids, effective July 6, 2015.
Sierra Pacific has temporarily suspended the CHDAP program. Also, they are now offering Fannie Mae's MyCommunity Mortgage Program, have announced enhanced LPMI pricing, and are offering a 0.50 percent price improvement on conventional high balance loans.
Chase has updated their VA High Balance LLPA.
The Independent Bankers Bank has announced they will make the Fannie and Freddie adjustments to their pricing in stages. The first of the changes was released on June 23, 2015.
Wells Fargo has updated their Agency LLPAs, effective June 25, 2015. They are also updating their Guaranteed Rural Housing Loan Adjusters, effective July 20, 2015.
BB&T has announced that loans secured by California properties are now eligible for delivery. They have also increased the maximum LTV for Non-Conforming/Jumbo Fixed Rate loans.
First Mortgage Corporation has announced they are no longer offering Access and First DOWN for conforming and jumbo loan amounts, or the Sapphire Grand Program.
East West Bank has updated their APRs on portfolio rates.
Ditech has updated their minimum loan term for all Fannie Mae and Freddie Mac fixed-rate products to 10-years. They have also announced updates to their Underwriting Guidelines on Conforming, FHA, VA, and Jumbo products.
Finance of America has updated their LLPAs for high balance fixed and ARM loans.
FirstKey has announced updates to their lock policies, effective July 1, 2015.
Caliber has announced Home Possible LLPA updates. They are also offering a 0.25 price improvement on all purchases for clients assigned to their Bay Area rate sheets.
AmeriHome Correspondent has announced changes to their LLPAs starting on July 1, 2015. They are also making updates to their Seller Guide, program guides, and related resources.
Dollar Bank has updated their risk based pricing matrix to reflect the updated LLPAs that were published by Fannie Mae for loan delivered on or after September 1, 2015.
Kinecta has updated their rate sheets, effective July 1, 2015.
Associated Bank is updating their LLPAs to be effective July 6, 2015.
SunTrust has made changes to their LLPAs, effective June 29, 2015.
Nationstar has announced changes to their LLPAs.
Freedom Mortgage has announced changes to their LLPAs, effective July 1, 2015. They have also increased their purchase incentive from 0.25 to 0.50 for Government Products only.
Franklin American has announced changes to their LLPAs, effective July 1, 2015.
BOK Financial has released changes to their LLPAs on the MyCommunity product, effective July 1, 2015. They have also expanded the maximum LTV from 95 percent to 97 percent.
Blue Hills Bank is updating their Processing Fee to $900.
Gateway Mortgage has updated their LLPAs, effective July 1, 2015.
Merrimack Mortgage Company, Inc. has changed their name to Merrimack Mortgage Company, LLC, effective July 1, 2015. The have also updated their LLPAs on all conventional fixed and ARM programs, effective July 1, 2015.
CMG has updated their LLPA values in preparation of the FHFA LLPA changes that have been announced. They are also retiring their Non-Agency Jumbo 600 series program, effective July 3, 2015.
Wintrust has updated LLPAs for WM Conf FXD, FN Conf FXD, and FN HB.
Carolina Bank will be open for business on July 3rd but will not be publishing rates.
Plaza has updated their LLPAs, effective July 1, 2015.
Guaranty Trust has updated their LLPAs, effective July 1, 2015.
PMAC will be updating their LLPAs on July 6, 2015.
NexBank has updated their LLPAs, effective July 1, 2015.
Pacific Union has announced LLPA changes on conventional loans, effective for locks on or after July 1, 2015.
NYCB has added Eligibility Guide updates and enhancements to their Jumbo 30-year fixed.
US Bank has announced LLPA updates.
Mortgage Solutions Financial has announced LLPA updates, effective with locks on and after July 1, 2015.
HomeBridge Wholesale is offering a pricing improvement of 50 bps on FHA purchases.
PRMG has updated their product profiles.
ACH Trust is revising the format of their rate sheet, effective July 6, 2015.
Each week we blog about investor updates and happenings in the mortgage industry. You can find last week's blog here.