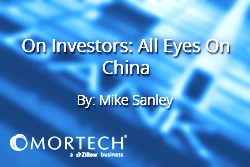 As the market sits today, we have stayed true to performance predictions since Dennis Lockhart gave investors the impression that the first federal funds rate hike is likely to take place soon. Lockhart believes that a rate hike will be appropriate in September unless the economy significantly underperforms expectations. But then came China again, and with an unexpected decrease in the valuation of its currency, it has sent shock waves through the world economies. This was an unexpected red flag, (no pun intended) as this may indicate China is more worried about the pace of their economy than first thought. The idea is that devaluing their currency makes their products less expensive on the global markets while making imports more expensive.
The long-term questions are now going to be, "how long does this go on", and, "will it have a long term impact on markets". With all indications pointing toward a September rate hike by the Fed, will this derail their plan? MBS have moved up throughout the week so far and pushed mortgage rates slightly lower. All eyes will be on China and how global the impact of their slowdown and artificial propping up of the markets will be. This volatility may delay the first rate hike to December, but it would be hard to imagine they would delay much past that.
Each week we blog about investor updates and happenings in the mortgage industry. Last week Mike wrote about the possibility of a September rate hike, which you can read up on here.