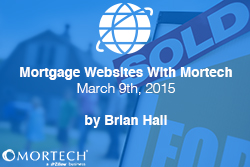 As the weather gets warmer, lenders are reminded that spring is quickly approaching, and with it comes the seasonal uptick in business for the mortgage and real estate business. Not only does the nice weather encourage people to go house-searching, but several thousands of people across the country begin new phases of their lives, graduating school, finding jobs, and moving to new homes. With this influx in the younger generation looking for houses, and more buyers beginning their mortgage searching process online, it becomes more and more important to have a strong online presence each year.
However, having merely a functional website isn't enough. Lenders need to build a unique and appealing website showcasing up-to-date mortgage rates, and access to loan officers who can assist the buyer through the mortgage process. Having a secure, online 1003 application, as well as tools and resources available to the online mortgage shopper create the best possible web presence for your business
Mortech's mortgage websites provide all you need, and more to get your rates in front of more online borrowers, and easily connect borrowers to your loan officers. Mortech also offers a variety of widgets to be plugged in directly to your website, that enable you to:
Post your most current, accurate rates,.
Allow borrowers to search for loan officers,
Provide borrowers with calculators and educational tools to help them make better home buying decisions.
Mortgage websites are just another way that Mortech helps customers bring in more leads and close more loans. To schedule a free, consultative demo and find out everything that Mortech can offer you, just fill out this short questionnaire, and we can get you started.