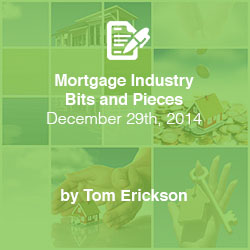 The Tax Prevention Act of 2014
The Tax Prevention Act of 2014 has been passed by the House and Senate and has been sent to President Obama for his signature. He is expected to sign this bill by December 31st, which will retroactively make some 55 provisions law for the calendar year 2014. There are two major provisions that affect the mortgage industry that are in the proposed law. The first is that Mortgage Insurance Premiums will again be tax deductible for 2014. The previous version of this had expired last year---this extends it only for 2014. The second is that it reinstates protections for distressed homeowners shielding them from having to pay taxes on mortgage debt forgiven in 2014. Before the exemption was created by Congress, if a lender agreed to let a homeowner with $400,000 in mortgage debt sell their house for $300,000, the IRS would treat the remaining $100,000 of forgiven mortgage debt as income. This was a double whammy for distressed homeowners during the financial crisis.
The Final Fed Meeting of the Year
The Federal Reserve's final policy meeting of the year concluded on December 17th, with the word "patience" being the new buzzword replacing the phrase "rates would remain low for a considerable time following the end of its asset purchase program in October." The Fed said that it "can be patient in beginning to normalize the stance of monetary policy." The Fed likely won't hike short rates any earlier than the middle of next year, as Wall Street is now forecasting. The "dovish" statement could also be construed as a sign that rate hikes might even come later next year than many investors had predicted.