Mortech was built on innovation, transparency and the power of synergy with partners and customers. Understanding our core competencies and complementing them with third-party service integrations is something we're constantly working tirelessly towards. This philosophy has created an intuitive, easily integratable suite of software solutions, and our mortgage APIs are just the latest addition.
Mortech's APIs allow partners to create custom borrower solutions built around specific things like investor rate sheet pricing, online rate advertising, mortgage lead delivery, and more. These APIs integrate easily, creating a single sign-on type experience from partner sites to the Mortech site, which gives partners access to different Mortech tools and pricing.
What API users then get is an improved borrower experience that allows them to display more rates from multiple lenders, and send lead information back to Mortech to be processed in the CRM. Proof of this improved experience for the borrower can be easily seen in the massive rise in API transactions in just the last year alone.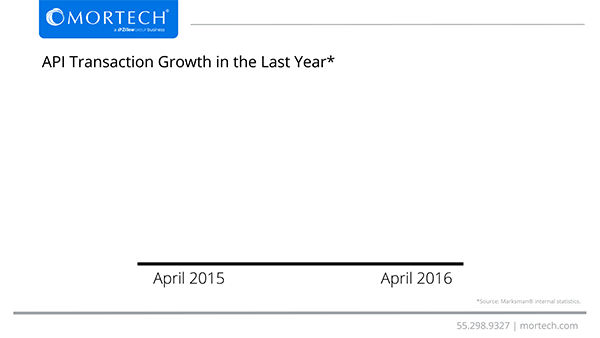 In just one year, API transactions have climbed 260%, meaning more Mortech partners are beginning to utilize these tools, and as a result, are creating more transactions with borrowers. B utilizing these APIs and integrating them within your site, you can begin showing and sending all of the information you want, and keeping complete control over the information you don't.
Want to find out more? Click the button below to get more information on our mortgage APIs, and learn how you can start using them today.