2016 has been a busy year for the mortgage industry. Rates stayed relatively low, and we saw a number of tech innovations take center stage, such as the rise of API usage. In an effort to provide the best mortgage tools and service for our users, Mortech also had a busy 2016, and equally, we received some pretty cool accolades along the way.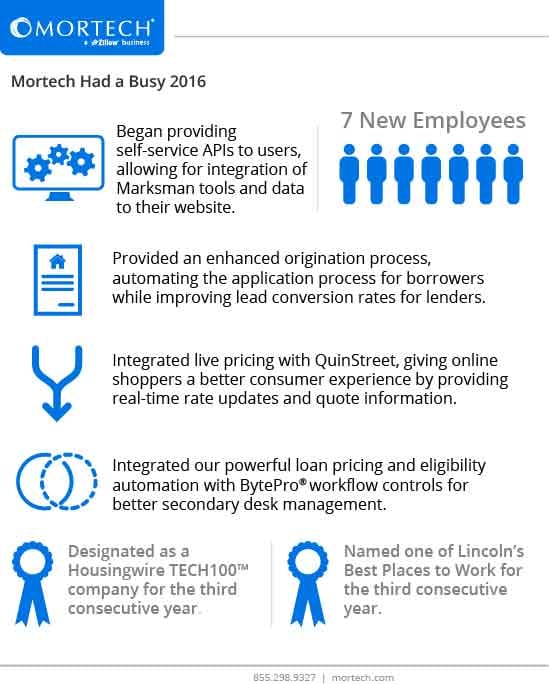 Throughout the year, we worked to provide the best possible experience to our users, often in the form of integrations with other companies who, like-minded to us, wanted to provide top-tier mortgage services and tools:
We integrated with Daric's point-of-sale and mortgage application and automation software, which provides a better online application experience for borrowers, and saves lenders time while increasing conversion rates.
We combined the audience of Quinstreet with the power and ease of Marksman, by enabling mortgage lenders to utilize interactive auto-quoting and real-time mortgage rates on Quinstreet's mortgage advertising network.
We also integrated BytePro's Loan Origination System with Mortech's powerful loan pricing and eligible automation, allowing for better accessibility and more productive workflows for lenders.
Because of these, and other things, Mortech was also recognized for these innovations along the way. HousingWire included Mortech on the 2016 TECH100 list of innovative technology firms, the third consecutive year we've been a recipient. Our company was also named one of Lincoln's "Best Places to Work" for the third consecutive year as well. That might be a reason for adding seven new employees to our ranks this year, who all share our mission to provide the best services and tools possible for our users.
2016 was a great year for us, but we think we can do even bigger and better things in 2017. We're excited for what the future holds, and for our users, we're happy you're here with us. Want to become one of those users? Schedule a short, free demo with us today, and let us show you how we can help improve your mortgage business.