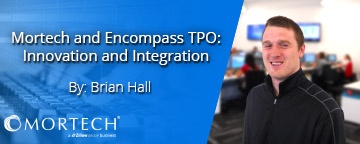 Innovation, and the ideal of being an innovator, isn't anything new to the mortgage industry. Mortgage companies are always looking for new things to create, and new ways to improve the strong foundations they've already set. The industry will even commend such companies, like with HousingWire's TECH100™ (of which Mortech was a recipient for 2016, our third consecutive year of inclusion), and encourage innovators to keep doing so, as it's what drives everyone within the mortgage industry forward.
In his keynote address at Ellie Mae's Experience 2016 conference, Ellie Mae CEO Jonathan Corr stressed innovation and providing new and improved software and features to customers. Corr also gave many different examples, however one that stood out the most was what's going to be an improved TPO web center for Encompass users. This new web center will make third party origination easier than ever for Encompass users, and will help provide a "next generation of consumer experience".
But how does Mortech fit in to what Ellie Mae is providing for Encompass users? It's simple: by integrating with Ellie Mae's Encompass, Mortech provides the most complete pricing to Encompass users, and provides streamlined TPO functionality.
Innovation isn't just the creation of a new solution, but also understanding that the creation of the new solution can be achieved when you can partner with a company that can translate value to your users, and vice versa. Mortech was built on innovation, transparency and the power of synergy with partners and customers, and we understand our core competencies and compliment those competencies with third-party service integrations. That's why Mortech and Ellie Mae have integrated to provide streamlined pricing and origination to our users, and given them seamless functionality between Marksman and Encompass.
Contact us today to schedule a free demo, and find out how you can begin utilizing Mortech's Encompass TPO integration.
Learn More About Our TPO Integration