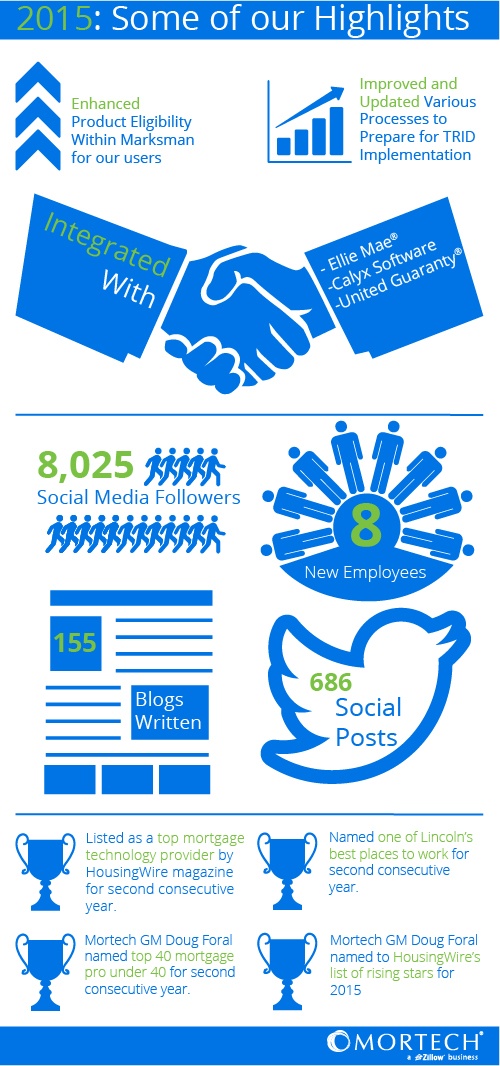 As we move forward into the new year, we wanted to take a brief chance to look back on some of the things we accomplished in the previous one. The last year was full of exciting things for Mortech, from new 3rd party partner integrations, to different honors and awards. We wanted to look back to acknowledge some of those big moments, but also to set a new bar for 2016.
We made several enhancements throughout the year to our mortgage pricing engine, Marksman, which included:
Enhancing product eligibility for our users and improving various processes in preparation for the implementation of TRID;
Integrating with Ellie Mae's Encompass and providing advanced system interoperability between the two systems for our mutual customers;
Integrating with Calyx Software's Point LOS, helping users optimize day-to-day workflow by further automating the mortgage process and improving the overall speed of the process;
Integrating with United Guaranty, enabling lenders to get live, private mortgage insurance rate estimates or rate quote when pricing a loan, all without leaving the Marksman platform.
We continued to grow as a company, bringing on new, talented people to help us better operate and serve our customer base.
We were honored for different team and individual efforts in the year as well. Mortech was named one of Lincoln Nebraska's "best places to work" for the second consecutive year, and listed as a top mortgage technology provider by HousingWire magazine for the second year in a row. General Manager Doug Foral was recognized as a top 40 mortgage professional under 40 for a second straight year, and was named to Housingwire's list of rising stars for the year as well.
2015 was a big year, but we're not slowing down, we're still working to become better, and give our users everything they need to improve their business by working more efficiently and closing more loans. To find out how you can start using some of the things we can offer, contact us for a free Marksman demo today.