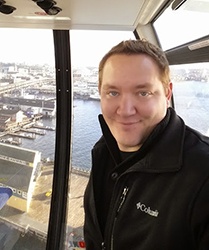 This week we're showcasing IT Operations Manager, Todd Bohling. Todd has been at Mortech for six months now. He's married to his wife April, a real estate agent, and together they have two children, Maddox and Madelyn.
Favorite things to do on his days off: Doing house projects, biking, playing guitar, traveling, entertaining the kids, going down to the farm.
Favorite place to travel: The Bahamas > Little Abaco > Pete's Pub.
Favorite time of the year: The fall.
Favorite thing about working at Mortech/Zillow: The environment. The people are great, the amenities are great, and we strive to live out our core values.
Favorite feature of Marksman: Its availability. Ensuring Marksman is available for customers is our top priority. System uptime is a team goal and we are happy the results reflect our efforts.
Marksman Insider Tip: Marksman is more than just a pricing engine, and different tools and functions like its email marketing feature can go a long way in connecting with more prospects and helping close more loans. Make sure you're using all of the tools available to you in Marksman and best utilizing the system.

To view the previous Meet Mortech, click here. Or to learn more about Marksman, you can click here.