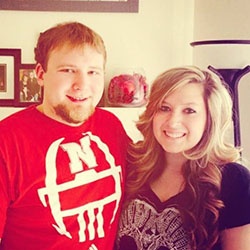 This week we're showcasing new Associate Account Manager, Rachel Ryan. Rachel lives in Lincoln with her husband Steven and her dog Benny.
Favorite things to do on her days off: On my days off I enjoy golfing, traveling, and spending time with my family and friends!
Favorite place to travel: Anywhere international, I love exploring new cities and cultures!
Favorite time of the year: Winter is definitely my favorite time of year! I enjoy the snow and all the fun activities that come along with it (snowboarding, sledding, etc.)
What made her want to work at Mortech: When I was looking to make a career shift I was looking for a company that would challenge me to always learn and grow. I quickly learned Mortech is that and much more! The culture here breeds success for both employees and clients - a balance that is hard to find in a company. Who wouldn't want to be a part of that?
One interesting fact about her: I grew up in Colorado and moved to Nebraska to play collegiate golf.
Last time we showcased Mortgage Support Specialist Jared Stauffer, which you can read here. Or to learn more about Marksman, you can click here.