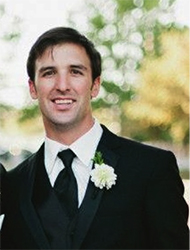 This week, we're showcasing Data Integrity Specialist Matthew Theis. Matt has been working here at Mortech for 2 years. He lives here in Lincoln with his wife, Katilene.
Favorite things to do on his days off: I like to tinker with my saltwater aquarium and work in the yard.
Favorite place to travel: Northeast Brazil.
Favorite time of the year: Spring turning summer.
Favorite thing about working at Mortech/Zillow: I really enjoy the culture here…work hard, play hard. Holiday Ping Pong tournaments are fun and have a high participation rate.
Favorite feature of Marksman: The 'view all possible adjustments' pop-up found on the Adjustments tab is very useful in my role. For each product, this feature displays each adjustment that can apply when getting rates. Things like FICO/LTV adjustments, LLPAs, and State adjustments only name a few of the adjustments that could appear here.
Marksman Insider Tip: By utilizing Profit/Cost adjustments, the customer can configure very specific adjustments for products on their own. Handling incentives this way will give the customer control over when these adjustments apply and when they do not. Once comfortable with them, they can be very useful and easily managed.
To learn more about Marksman, you can click here.