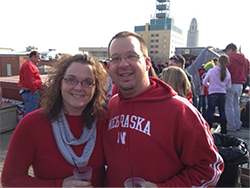 This week, we're showcasing Implementation Specialist Luke Derowitsch. Luke has been working at Mortech for four years, and now leads our implementation team after starting in customer support. Luke is married to his wife Desi, and the two of them have four daughters: Lexi (18), McKenzie (10), Katelyn (7) and Maddie (18 months).
Favorite things to do on his days off: With four daughters I enjoy doing whatever it is they want to do. We love being outside and riding bikes. All of us also really enjoy soccer so if you drive by our house the chances are really good we're outside kicking the ball around.
Favorite place to travel: Colorado – specifically Breckenridge. We like to vacation there every other year or so and enjoy the mountains in the summer time. I'm not graceful enough to ski.
Favorite time of the year: Summer. Love being able to be outside whether it's enjoying a bike ride, working in our yard, or sipping wine by a late-night fire pit.
Favorite thing about working at Mortech/Zillow: Winning is fun! We like to provide customers with the best experience and ability to do their job easier and more efficiently.
Favorite feature of Marksman: The login button. Once the login button is selected, users are whisked away into a magical land of mortgage pricing bells and whistles. Not to mention our CRM capabilities! Did you really expect me to pick ONE favorite thing about Marksman?!
Marksman Insider Tip: Like a car needs a tune-up so might your Marksman account. Contact any one on the implementation team, or your account manager, and let us run the diagnostics on what features you are using the best and what you aren't utilizing that you should.


To meet with Luke or another member of our Implementation team for a general training session, click here. Or if you'd like to schedule a consultative demo, click here.