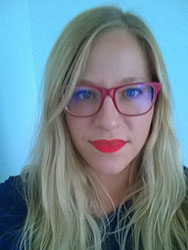 This week, we're showcasing Associate Account Manager Liz Shehorn. Liz has been working here at Mortech for almost 8 months now. She recently moved to Nebraska with her husband Nasser, after having lived in Iowa while attending Iowa State University and working in non-profit. It was shortly after that when she found her dream job at Mortech, and moved to Lincoln.
Favorite things to do on her days off: My dream day off consists of sleeping late, going shopping, then coming home and taking down an entire pizza in my PJ's. Ideally this will occur when the new season of Sherlock is out, but I'm not too picky.
Favorite place to travel: This coming year we have a few trips slotted, including a trip to Seattle, Hawaii, and back to my husband's home country of Kuwait. (All new places for me)
Favorite time of the year: I love spring, mostly because it marks the end of winter, which I hate.
Favorite thing about working at Mortech/Zillow: My all time favorite thing about working for Mortech is at the end of a long day, I get to go home and be with my little family and I don't have to worry about work again until 8am the next day. I have a great work/life balance here and I wouldn't trade it for the world.
Favorite feature of Marksman: It is so customizable. Everybody has a different view of the software because you can shape it to fit your needs and our software development team continues to roll out new features every month to benefit our users.
Marksman Insider Tip: We want to be the best thing that ever happened to the mortgage business, utilize us! Ask questions if you don't fully understand the system, we love to teach. The system has lots of functions and that can be scary for a new user or an older user as we continue to add new features every month but feel free to ask for additional training to understand how those features work and how they will benefit you to lock more loans!
To earn more about Marksman, you can click here.