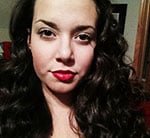 This week, we're showcasing Associate Account Manager Kyra Garcia. Kyra has been working for Mortech for almost a year and a half. Her family consists of 3 kids (ages 11, 7, and 6), her Girlfriend, and their 2 puppies, which are brother and sister 6 month old miniature Australian Shepherds. They like to spend a lot of time outdoors with the puppies or watching KU men's basketball. Rock Chalk Jayhawk!
Favorite things to do on her days off: Depending on how many days off I have, I really enjoy road tripping to visit family in different cities. On a normal weekend I like to just hangout and not make plans. Being able to just watching Netflix can really be relaxing!
Favorite place to travel: My favorite place to travel is to California to visit family. My big brother is going to be having a baby boy this year and I can't wait to meet him!
Favorite time of the year: My favorite time of year is the fall. I love wearing boots and sweaters, and getting a break from the heat!
Favorite thing about working at Mortech/Zillow: My favorite thing about working here is the laid back atmosphere. Being able to hop on the treadmill or play a game of Ping-Pong can really help to ease a long workday.
Favorite feature of Marksman: My favorite feature would have to be the email campaigns. If you have that feature turned on you will be putting your brand out there to your customer as well as the individuals your customer is referring to you! Why not use this tool to keep in touch with your client and make sure they know you are here when they need you?
Marksman Insider Tip: When copying and pasting your username and password into the Marksman login page, make sure there are no spaces at the beginning or end in either field. So, before you request a new password either from the login page or from your Administrator, make sure you don't have any extra spaces.
To learn more about Marksman, you can click here.