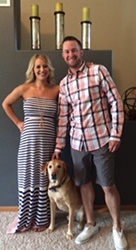 This week we're showcasing Executive Administrator, Jenna Killion. Jenna has been at Mortech for a year now. She's married to her husband, Casey, and together they have one dog, Brinkley, and are expecting their first child soon!
Favorite things to do on her days off: Spend time with my husband and fur baby, Brinkley.
Favorite place to travel: Hot, tropical locations!
Favorite time of the year: Summer and fall.
Favorite thing about working at Mortech/Zillow: The people, the great culture, and benefits like standing & treadmill desks. Benefits and management are what make the business have upward competitive growth.

Favorite feature of Marksman: The Mortech Dialer! It makes it so much easier for our customers to connect with potential borrowers and maximize incoming leads.
Marksman Insider Tip: When on the rates page, you can create and save up to five default scenarios that you can quickly get rates for, without having to go through the process of creating each individual rate every time you log on to Marksman.

To view the previous Meet Mortech, click here. Or to learn more about Marksman, you can click here.