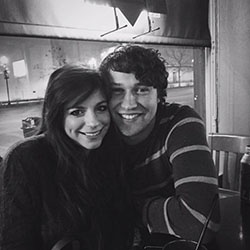 This week we're showcasing new Mortgage Support Specialist, Jared Stauffer. Jared lives in Lincoln with his wife Lacy.
Favorite things to do on his days off: The perfect day off would consist of first watching a movie or playing some video games, playing pretty much any sport in the afternoon, and then finishing off with hanging out with my wife and friends all night.
Favorite place to travel: All-inclusive resorts in Riviera Maya, Mexico.
Favorite time of the year: Summer. I hate the cold and would love to wear sandals all year around. I live in the wrong place for that.
What made him want to work at Mortech: The culture. When I was looking for a new place to call home, I wanted to work for a company that cares about their employees as much as they care about their customers. Fortunate for me Zillow cares immensely for both. Zillow and Mortech have created a great working environment, with low turnover, and I just had to be a part of it.
One interesting fact about him: I bungee jumped into the Nile River in Uganda while working for a nonprofit called Invisible Children.
Last time we showcased Associate Account Manager Jessica Schwab, which you can read here. Or to learn more about Marksman, you can click here.