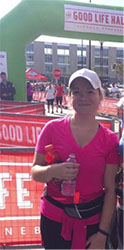 This week, we're showcasing Implementation Specialist Erin Hussey. Erin has been working at Mortech for almost two years now. She has a seven year-old daughter named Olivia.
Favorite things to do on her days off: Run, hike, bike, read, travel, or watch movies.
Favorite place to travel: Colorado or Florida. I like to be either in the mountains or at the beach!
Favorite time of the year: Fall – the best time of year to be outside in Nebraska.
Favorite thing about working at Mortech/Zillow: My favorite thing about working here is the great work environment and company culture.
Favorite feature of Marksman: It's highly customizable to meet the needs of each customer.
Marksman Insider Tip: Attend a general training session, which are offered weekly, to learn about tools in Marksman you may not be utilizing.
To learn more about Marksman, you can click here.