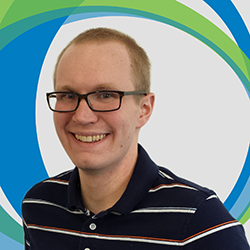 This week we're showcasing Data Integrity Specialist, Eric Rock. Eric has been at Mortech for five months, and grew up and went to college here in Lincoln.
Favorite things to do on his days off: Jam out on my guitar or have a game night with some friends.

Favorite place to travel: South America; beautiful weather, beaches, what's there not to like?

Favorite time of the year: Summer, the perfect swimming weather!
Favorite thing about working at Mortech/Zillow: Work hard, play hard; everyone does what they're supposed to, but we still have fun.

Favorite feature of Marksman: The fact that we can include so much information for very specific rates in all kinds of situations.
Marksman Insider Tip: If you can't get pricing in Marksman and don't get a specific error message, make sure the state and the product category you are searching are offered by the listed investor. Usually that's the key to getting the loan to price.

To learn more about Marksman, you can click here.