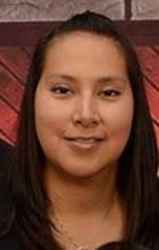 This week, we're showcasing Associate Account Manager Desiree. Des was born and raised in Oklahoma and has lived in Lincoln for the past 10 years. She's been working at Mortech along with her husband Antonio for over two years. They have two children, Kaia and Zane, who are three and one and a half, respectively. They also have a third child on the way. They are very family oriented and enjoy doing family things together. They also enjoy frequently visiting comic stores, as well as other comic related events.
Favorite things to do on her days off: My favorite thing to do is spend time with family which includes staying home watching a movie and cuddling with my kids.
Favorite place to travel: So far my favorite place to travel has been to California.
Favorite time of the year: My favorite time of the year is spring. I love the smell of fresh cut grass and the warmth of the weather.
Favorite thing about working at Mortech/Zillow: I love the flexibility I have here. I also love that I'm able to leave work and not take it home with me. Keeping a good work/life balance is very important to me.
Favorite feature of Marksman: My favorite feature of Marksman is having the ability to integrate with third parties.
Marksman Insider Tip: Our system is robust and flexible, which enables us to accommodate different types of customer requests.
To learn more about Marksman, you can click here.